Listening to Alan1 on #MusicFriday
For this #MusicFriday entry, I thought I'd dip into the home studio catalog and share my work with my good friend and former co-worker at Microsoft, Mike Watson (@jmikewatson), and my daughter Audrey (@AudreyLWorkman). We called ourselves Alan1, which is, of course, the user name for Alan Bradley, the programmer at ENCOM who created Tron, the "security program developed by Bradley to self-monitor communications between the MCP and the real world." (Wikipedia)
Back in 2008, Mike and I split time between our homes in Duvall and Snohomish, Washington, recording little snippets of songs here and there. For those who follow me on Twitter, you may recognize the similarity of the picture to the right and my infamous Twitter image. Yes — same photo session, as I joined Twitter in May of that year.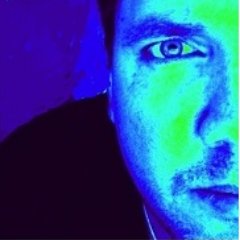 Unfortunately, much of the music that we captured was stored on the hard drive of a now-inaccessible Mac, but, thankfully, we were able to sort-of-finish the 5 songs below, which we called DigitalEP. Enjoy.
(She Is) Luminous
Mike and I were playing dual synths on this one, with Mike on his Mini Korg and me playing Audrey's Casio keyboard with generic beats. My bass and vocals were added later. It's a song about our better halves.
Love | Trust
The synth and dual bass lines were all me, added to a drum sample that I was fond of, and recorded on a rainy Saturday in my home office. I had the song posted to Soundcloud, and a friend and fellow SharePoint consultant, Patrick Fleming, heard it and asked if he could add some vocals. It's a song about a struggling relationship. I think it turned out fantastic.
No Words (No Memory)
I had this bass line stuck in my head, and Audrey found the drum kit sound on her Casio, and came up with an appropriate melody that just seemed to fit. I added the vocals later, and tried to keep them simple. As we were writing the song, Audrey kept telling me to sing something, and I jokingly sang "I don't know what to do, I don't know what to say" which became part of the actual lyrics. It was a fun project.
Song Two
This instrumental is another father-daughter project. Audrey had this little repetitive jig that she would play, and just liked it, so we found a drum look that worked and built a short song around it with backwards guitars and muddy bass.
The Silver Chair
I was visiting Mike in Snohomish, just before he shut down the home studio, and we recorded the vocals for this song — but to a very different bass line and beat. I had the lyrics in my notebook from back in my band years. It's about Prince Rilian, the only son of King Caspian in the CS Lewis book The Silver Chair, who was abducted by the Lady of the Green Kirtle (the Emerald Witch). The song is about Rilian drifting in and out of his enchantment. When Mike shared his edit of the song, I was surprised that he had completely changed the beat and synth to what I had sung to, but loved it. It has become one of my all-time favorite songs from my various music projects.
Mike and I talked about creating some additional music together, and while it's been 12 years since the last outing, I'm hopeful to do something in the new decade.