Blue Plate Special: The Blow Monkeys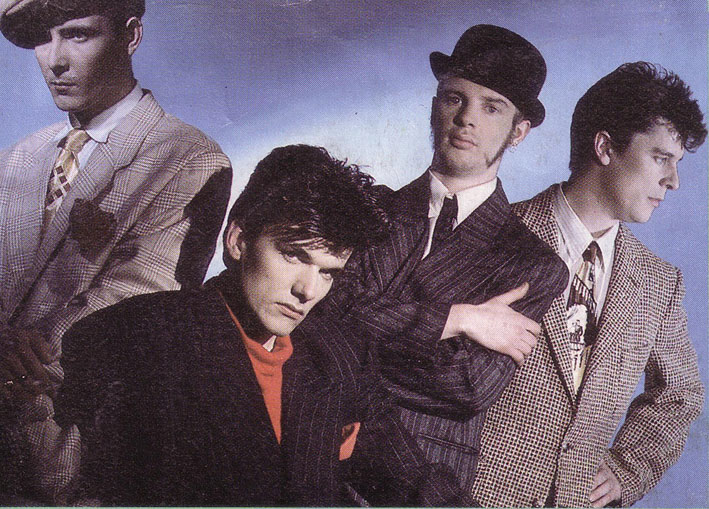 One of the major new wave hits during the summer of 1986 was 'Digging Your Scene' by the Blow Monkeys, hitting 14 on the US Billboard Hot 100, and 12 on the UK singles chart. Formed in 1981, the UK new wave band had (has) a hybrid jazz and dance sound behind the exoteric vocals of lead singer and guitarist Dr. Robert, with Mick Anker (bass), Neville Henry (sax) and Tony Kiley (drums). I always considered them to be a "modern lounge band" of sorts. They recorded 5 studio albums and moved from guitar and sax-driven new wave to dance music, disbanding in 1990. The band with the original lineup reunited in 2007 and started touring again in 2008, and have since produced 6 new studio albums.
In the summer of 1987 after returning from my first year at university, I bought a 1952 Chevy with a beat up cassette player, and played the Forbidden Fruit EP over and over, which included 3 of the songs below: Forbidden Fruit, Wildflower, and Atomic Lullaby. That was the summer I met my wife as teenagers, and that EP (plus albums by Crowded House and INXS) became my soundtrack for the year.
Some of my favorites from their earlier years:
Digging Your Scene, from the album Animal Magic (1986)
By far, their most-recognized single, charting in the Top 25 in 10 countries. The video may not have aged as well as this classic new wave song, but it's still one of my favorites from that decade.
Forbidden Fruit, from the album Animal Magic (1986)
The lead single from the Forbidden Fruit EP, I consider it to be one of the earliest "dream pop" songs that really captures the sound that made me a fan.
Burn the Rich, from the album Animal Magic (1986)
A deep track off their second studio album, and this one is a slight departure with an almost western groove. I absolutely love the vocals and lyrics of this song. Just a fun listen.
Cash, from the album She Was Only a Grocer's Daughter (1987)
Another non-single deep track from their third studio album. This entire album was slowly introducing the heavier percussion as they shifted toward dance music. I went out and purchased the album as soon as it was available, and was happy to hear this song in a mix at the local college dance club, Plastique (Provo, Utah).
Wildflower, from the album Limping For a Generation (1984)
Another song from the Forbidden Fruit EP, and the final single from their first studio album, it's another jazzy, melodic number that perfectly blends guitar and saxophone with lead and backing vocals.
Atomic Lullaby, from the album Limping For a Generation (1984)
And finally, the third song on my list from the Forbidden Fruit EP, this was a b-side on the 'Go Public!' single (1984). Another jazzy groove that builds the horns and drums culminates into a crescendo and an explosion….which is a great way to end any list, right?